So you saw a dress that was WAY out of your price range, but you KNOW it will look better on you. No problem, simply make it at home so that it IS in your price range.
Not only is sewing at home much less expensive than purchasing in a store, but you can make your pattern detailed specifically to you. No more bagging in the seat of pants, or sagging darts on a bust line. You can take ANY pattern and tailor it to your measurements so that everything you make looks better on you than on anyone who bought it in a store.
Measurements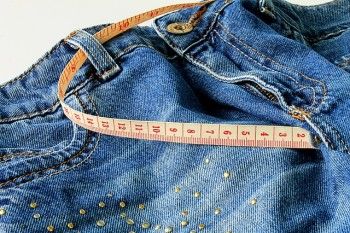 You're going to need to learn how to take a measurement if you plan on tailoring patterns to your body. You have to be able to read a measuring tape, so that you can be detailed about the exact measurement. If you can read a ruler, you've got this licked.
The four areas to really pay attention to when taking measurements for a pattern are;
the bust
belly
hips
thighs
Depending on the pattern you are using, you may also need to take a measurement of the natural waist.
This is most dependent on where the slacks, pants, skirt or other project is specified to hang from on the body. Some are low-rise, therefore the area 2 inches above the hip is normally the measured area for this. And if you're like me, you steer clear of those simply because of the chance of your inner plumber being seen when you wear them.
So, measure each of these areas, and keep them handy so you don't have to take the measurements over and again. Unless your weight fluctuates, you will generally use the same measurements for all of your personal projects to be worn. However, if you find that one measurement is too tight or too loose, simply adjust it on one pattern and write down the adjustment on your measurement sheet for future reference.
If you are a true size, these measurements may not be needed. But none of us are perfect, and our bodies are different so a true size is almost impossible to obtain. The size you normally wear is the one you will use for all patterns when purchasing.
Please watch this video to learn how to take your measurement for sewing.
Choosing the Right Pattern
So you found the dress in the store, but have no idea how to make it. Look at the design and then check around for patterns that match the most important aspects such as the cut, neckline and sleeves. Once you have found one that is mostly the same, you can take it home and begin tailoring it for your own needs.
It is ideal to keep paper grocery bags around to trace or cut your own pattern additions on to, but you can also use tracing paper and a pencil. Some of the top pattern manufacturers include Butterick, McCall, and Simplicity.
I've found over the years that the truest sizing comes from Simplicity patterns, but you may find your own favorite.
Some patterns include a range of sizes, such as a size 6 to 10 so that you are able to create any of the included sizes from the same pattern.
Reading a Pattern
There are lines on all patterns, that will guide you as to what to do with each part. You should really pay attention to the lines, as there are solid thick lines, solid thin, dotted and interrupted thick and thin lines. Each pattern company is different, but there is a guide on each pattern to guide you through what each line is to be used for.
Always cut your pattern on the outer edge of these lines, so as to allow for any additional that may be needed if you are using the true size. If you are adding in or subtracting for your own measurements, measure and mark these on the pattern in their corresponding points. Then you can cut on the outside of those measurements.
If this is your first time working on a store bought pattern, I suggest you watch this video as it explains all the things you should learn.
Tips
When cutting your material against the pattern, always lay it out and pin it directly to the pattern. Lay the pattern face down, and pin the material along the edges of your cutting lines.
Your material should always be laid out wrong side out, and you can begin cutting. If your material has a finished edge, use the finished edge for a hem line at the bottom of any pattern.
You can use scraps for smaller pieces on your pattern such as sleeves, ties and accessories. Any left over pieces of material you have can be used for smaller pieces of your pattern.
So now that you have the basics of patterns and how to use your own measurements, I think it's time to put it to use. Find a dress you will enjoy for summer, and look for a pattern. Make sure to pay attention to the pattern specifications, as most will tell you what kind of material to use.
Choose your material, take it home and let's see your finished work. Wear that dress loud and proud! You not only saved money, but made it to FIT you and only you. Those boutique stores can't say the same. Happy sewing!