Sewing can be a fun hobby, a way to make a little extra money, or a skill to pass down to each generation of the family.
There are so many different machines on the market, so it can be hard to know the real differences between one machine and another.
As such, this Necchi Sewing Machine review will give you a look into the HD22 Mechanical Sewing Machine.
Claimed as one of the best machines available on the market today, whether you're searching for a new sewing machine for yourself or a gift for a loved one's birthday, the HD22 might just be what you need.
Imagine a sewing machine that can make complicated stitches incredibly easy, even for beginners: that's the beauty of this machine.
Necchi Sewing Machine Review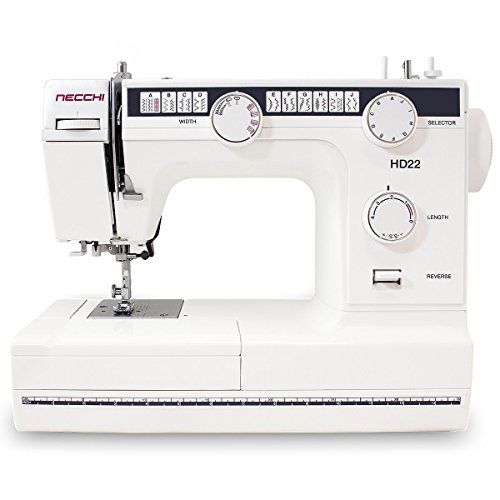 Necchi is a well-known and trusted brand in the sewing world, which was established in the early 1900s in Pavia, Italy.
It made plenty of models that became popular throughout the years, including Ex100, the QS60, and the FA16.
The Necchi HD22 is a unique machine that hasn't had any recent upgrades.
If you're looking for a heavy-duty and reliable sewing machine that can get just about any job done, this is a great option to try out.
Who Is This Product For?
Whether you're a beginner looking for your first sewing machine or you're a seasoned professional, this manual sewing machine is a solid choice to have in your home.
It is an excellent option for somebody who plans on using their sewing machine daily or putting the machine through a lot of work in general.
Understandably, not everyone has a large budget when it comes to buying a new sewing machine, which is another reason the Necchi HD22 is a great buy.
It's available at a mid-range price, which is relatively inexpensive compared to other similar models on the market.
That is even though the machine has been made by a trusted brand known for building long-lasting and reliable machines!
What Is Included?
There are quite a few accessories that come with the Necchi HD22 Mechanical Sewing Machine, which will come in handy for users of all skill levels.
For starters, you get a sewing machine cover that you can put over the machine when it's not in use to help keep out dust, debris, and other particles.
New users will also enjoy the included instruction book that makes it easy to learn how to set up the sewing machine exactly how you need to complete just about any project.
There are three different feet with this set, including a zipper foot, a hammer foot, and a buttonhole foot.
There is also a small screwdriver, a large screwdriver, and oil to keep the Necchi HD22 Mechanical Sewing Machine in tiptop shape as you continue to use it.
The foot control allows you to easily adjust the speed of the sewing machine with your foot, while the included hem guide makes sure that you're sewing a straight stitch every time.
You will also get the following:
Felt
Oil
10 bobbins
Seam ripper or buttonhole opener
Vie-pack Janmoe size 14 needles
Two 75/11 needles
Two 90/14 needles
Blue tip needle
Hem guide
Overview of Features
The material used in making the Necchi HD22 Mechanical Sewing Machine is a durable aluminum alloy to ensure it will last for several years on end when you use it properly.
What is better is that even though the material is heavy-duty, the sewing machine is surprisingly lightweight and portable.
This can be an important feature if you're someone who needs to carry a sewing machine to certain jobs, a sewing class, or just over to a family member's house.
Many of us don't have a ton of space in our homes to spare, which is okay if you have the Necchi HD22 Mechanical Sewing Machine since it's small enough to fit into storage spaces without taking up too much room.
Sewing machines can be incredibly expensive, and that price usually just includes the sewing machine itself and not all of the extra accessories.
With this machine, you'll get an accessory set, plenty of needles, a few feet options, and more that will take your sewing game to the next level.
That said, just like most other things that we purchase, some things could be improved about the Necchi HD22 Mechanical Sewing Machine.
The two notable things that aren't the best on this sewing machine is that there isn't a large stitch size like other Necchi sewing machines have, and there aren't that many stitch options to choose from.
PROS:
Incredibly lightweight
Compact and easy to store
Convenient carrying handle
Made out of high-quality materials
Has a ton of accessories
Easy to assemble and use
Great value for money
Great for beginners
CONS:
Lacking big stitch sizes
Limited stitching options
How to Get the Most Out of It
It doesn't matter how much experience you have, each when you're testing out a new product, you always have to learn the ropes.
If you're looking for something specific, such as threading or troubleshooting an issue, you'll likely be able to find a video on YouTube that fits your needs.
On that note, to make this Necchi Sewing Machine review as useful as possible, here is a great video for you.
It shows you an overview of the Necchi HD22 Sewing Machine, and the video creator mentions what he uses the machine for, what he likes about it, and the cons that he experienced so far by using it.
Alternatives
If you've decided that the Necchi HD22 Mechanical Sewing Machine isn't the sewing machine for you or you just want to see what else is on the market, below are a few alternatives that can do what this sewing machine can do and more.
Necchi Ex100
For starters, consider the Necchi Ex100 Sewing Machine as an alternative to the HD22 model if you're looking for something that can make larger stitches, but made by the same manufacturer.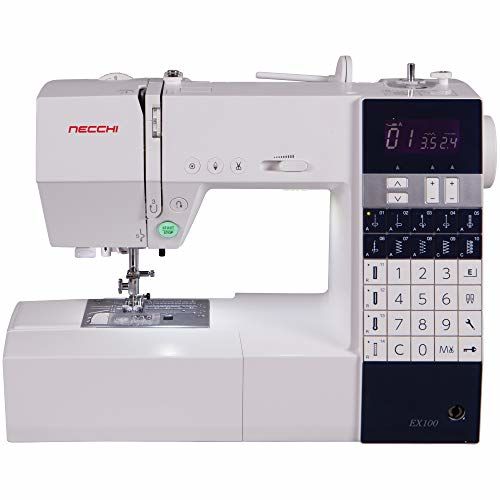 It does weigh nearly double the HD22, but if you do not need something that's specifically lightweight, this is a great option.
The Necchi Ex100 is an easy-to-use computerized sewing machine that has 100 stitch options, several stitch sizing options, and a built-in extension table.
Expectedly, though, this is more expensive than the HD22 model.
SINGER Heavy Duty Sewing Machine
If you think the HD22 is a bit above your allotted budget, but you still want a product from a popular brand, the SINGER Heavy Duty Sewing Machine is an excellent choice.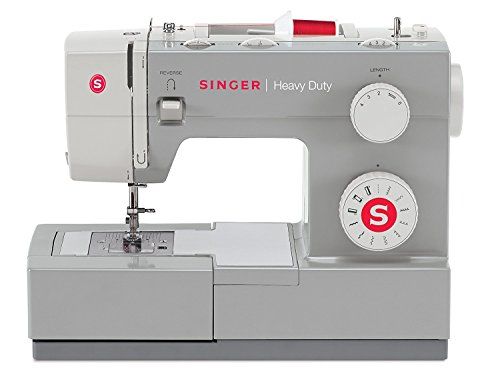 It can make 1,100 stitches in a minute, has needle position adjustment, and can sew even heavy fabric materials.
However, do note that it only comes with 11 built-in stitches, as compared to the 22 built-in stitches of HD22.
Also, the machine does not come with as many accessories as the HD22, which is understandable due to its lower price tag.
Conclusion
This Necchi Sewing Machine review was designed to give you an insider's look on a high-quality sewing machine that is an excellent buy for both beginners and sewing veterans.
It's a heavy-duty machine that is small and incredibly lightweight, making it a perfect option to take to classes or seminars.
Since the machine weighs around 10 pounds in total and has a built-in handle, this is a top choice for younger or older people who may not have a ton of strength to lug around a heavy sewing machine.
If you prefer not to spend an arm and a leg on a new sewing machine, as well as do not want to spend more money and time looking for accessories, this is a great option since it comes as a bundle.
It is important to keep in mind that this machine may not have a wide range of stitching options and doesn't make large stitches, but overall it's a fantastic sewing machine that would be an amazing addition to any home.