So you have your sewing machine. You know how to thread it, select the right patterns, and pick out the right stitches.
So what else is left? Presser feet.
I've briefly mentioned the basic items that you may need in your sewing box. Yet the list of tools and accessories is very long, and you will find yourself getting more items as you become an expert on your sewing machine.
Today, you can find out more about the different types of presser feet and attachments that are available.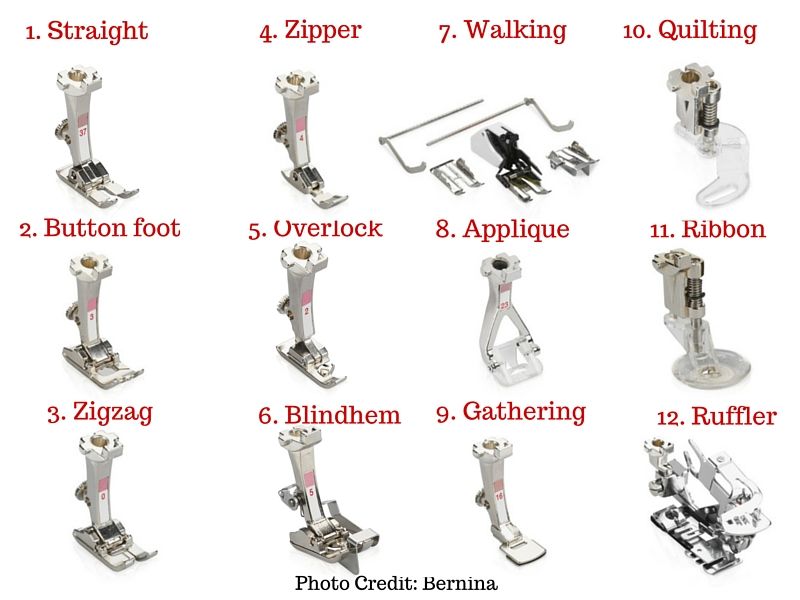 Basic Types of Presser Feet
Straight foot
Button hole foot
Universal/Zigzag foot
Zipper foot
Overlock Foot
Blind Hem foot
Walking foot
Applique foot
Gathering foot
Quilting foot
Ribbon foot
Ruffler attachment
Some presser feet are included with the sewing machine when you purchase it. Other presser feet and attachments you will have to buy separately. Each one has a specific purpose based on your sewing project as each one will give you the desired sewing style quickly.
1. Straight Foot: The straight foot works with heavy fabrics when you are just looking for a straight stitch without doing anything fancy. Be careful. This pressure foot is not like a universal/zigzag presser foot. If you try to do other types of stitches, you will end up bending and breaking needles in the fabric.
2. Button foot: Great for making buttoned shirts and coats, the button presser foot will place on flat buttons. You have to adjust the stitch width based on the location of the holes since flat buttons come in all types of sizes. The buttonhole presser foot will create buttonholes that are an exact match due to a memory function. There are also templates for the buttonhole presser foot although you will have to buy those separately.
3. Universal/Zigzag foot: When unwrapping your sewing machine from the box, you'll most often have a universal presser foot that also allows you to perform zigzag stitching. It has a larger foot as you will also be able to do straight stitching and decorative stitching.
4. Zipper foot: The zipper presser foot allows you to place zippers in jackets, dresses and skirts. You can make close, even stitches near the zipper coils. If you want to have an invisible zipper, you will need to get an invisible zipper presser foot. The regular zipper presser foot can't be used for that.
5. Overlock Foot: Also called an overedge foot and overcasting foot, the overlook foot will make the fabric edge look neat as it also prevents the edges from fraying. It's a great alternative if you can't find your serger as it works with woven fabrics.
6. Blind Hem foot: If you don't want to sew hems by hand, you can use the blind hem presser foot for the bottoms of jeans, dresses and curtains. When worked right, the hem will look almost invisible.
7 . Walking foot : The walking presser foot looks big and complicated, yet it is a great tool when you are sewing several layers of fabric together. It keeps every layer in place to prevent shifting. Most quilters will keep a walking foot handy with their sewing machine.
8. Applique foot: Appliques can sometimes be very delicate as you don't want to ruin them when attaching the needlework to other fabrics. The applique presser foot helps you see where every stitch is attached for a clean and even look.
9. Gathering foot: The gathering pressure foot allows the fabric to be stitched with a soft gathered look for a unique style to your fabrics. Gathering looks well on children's clothing, dresses and skirts.
10. Quilting foot: Along with the walking foot, you will also want a quilting presser foot when sewing several layers together, such as the batting inside the top and bottom layers of a quilt. The quilting foot is great for freehand patterns.
11. Ribbon foot: A ribbon presser foot allows you to place ribbons on any fabric that you want. The ribbon will be sewn evenly along the fabric no matter the size. You can also use it to attach strung sequins.
12. Ruffler attachment: This accessory can allow you to make pleats in all types of girl's clothing. You can make pleats in a range of different sizes while still maintaining a uniform look.
---
Homework: There are many more presser feet and attachments available. Before going out and buying any presser feet you find at your local sewing store or online, look over the sewing machine manual. It will tell you the type of attachments your sewing machine can use. Then get to know how each presser foot is attached and works so you can easily install and uninstall them when you need a particular presser foot.