If you would like to sew at home but do not have a lot of space to do it in, these mini sewing machines are the ideal solution.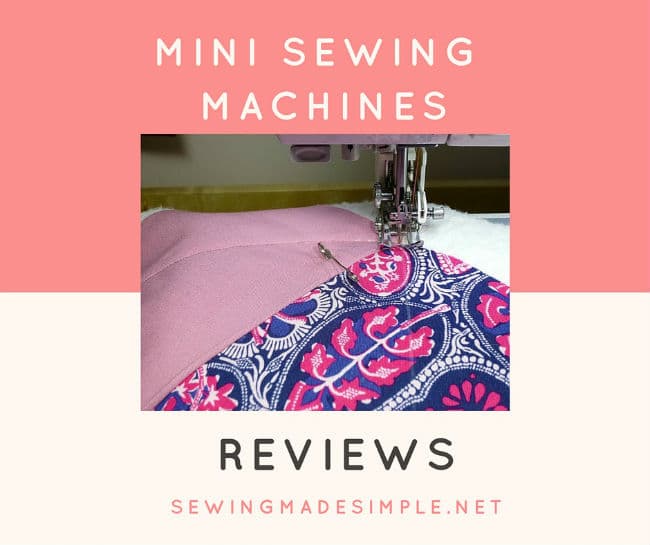 There are countless to choose from, so below are the top 2 Janome mini sewing machine reviews that include features to help you make a good decision about your purchase.
Important Note: Sewing Made Simple is a participant in the Amazon Services LLC Associates Program, an affiliate advertising program designed to provide a means for sites to earn advertising fees by advertising and linking to Amazon properties including, but not limited to, amazon.com, endless.com, myhabit.com, smallparts.com, or amazonwireless.com. Pricing is based when we wrote this product review and cannot guarantee accuracy or availability. We will correct any inaccuracies as soon as they are brought to our attention. Product images used in this post are all from Amazon.com.
Janome Sew Mini Sewing Machine
For this charming little machine, depending on the retailer you go to, you can get a really great deal This is definitely one of the best sewing machines you can get at this price range The only issue is that it is frequently out of stock on Amazon and at other online stores. Not sure why but it may be discontinued. (disclaimer: not 100% sure about it, so you need to do your research! ????) So for now check out my recommendation for an alternative machine below.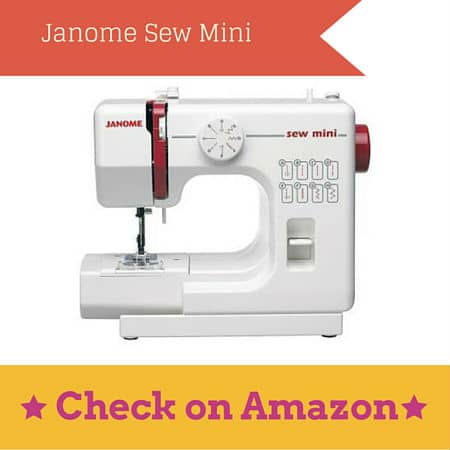 Its miniature size allows for use just about anywhere you'd like, while still giving you the chance to create and get your favorite projects done from home. Whether you are taking it to a school or an absolute beginner that doesn't need a lot of machine, it is a great deal.
Features
Weighs under 7 pounds
J style drop in bobbins
10.5 inches in length by 8 inches high & 4.75 inches wide
Wall plug instead of batteries
1 presser foot included with a drop in J style bobbin
You can stitch up to 6 layers at once
The reverse button is helpful and lets new sewing lovers control when stitches are reversed and for how long by holding the button down.
Also, the red writing on the white machine allows users for easy viewing of the stitches while working on projects. If you are a beginner or someone that's always moving around a lot, you cannot go wrong with this machine. It is a great deal and perfect for small projects. Plus the price is a no-brainer.It's a simple and easy to use machine that can be worth so much in the right person's hands.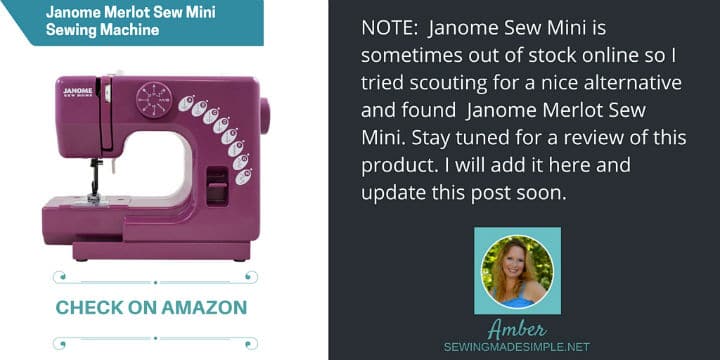 Janome Sew Mini: A Personal Favorite
If I had to pick between the both, I honestly think that the best machine for your money and small place is the Janome Sew Mini Stitch, since it offers a few more features that the other one simply does not.Simply the fact you can sew many layers at the same time due to the speed and the feed dog system makes it the best deal. Which is something that the other one doesn't have. So for the price and features, this one would easily be my top pick.mini sewing machines reviews, that would be my top pick.