**Disclosure: We recommend the best products we think would help our audience and all opinions expressed here are our own. This post contains affiliate links that at no additional cost to you, and we may earn a small commission. Read our
full privacy policy
here.
The Singer One Easy To Use Sewing Machine is computerized, meaning that anyone who knows how to run a computer can run this sewing machine even if they have no experience using such an item.
Important Note: Sewing Made Simple is a participant in the Amazon Services LLC Associates Program, an affiliate advertising program designed to provide a means for sites to earn advertising fees by advertising and linking to Amazon properties including, but not limited to, amazon.com, endless.com, myhabit.com, smallparts.com, or amazonwireless.com. Pricing is based when we wrote this product review and cannot guarantee accuracy or availability. We will correct any inaccuracies as soon as they are brought to our attention
Perfect for consumers of all ages, this product can help anyone become proficient in sewing. Select types of stitches are even built in, making many sewing projects easier than ever before.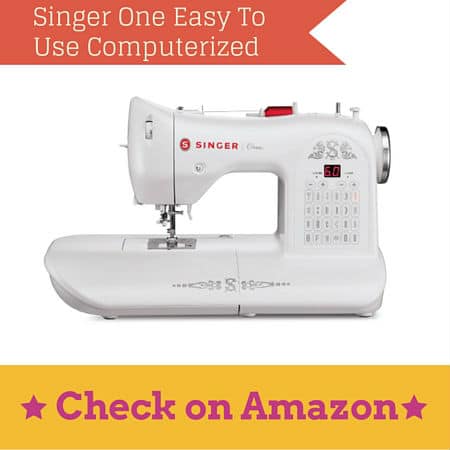 The threading system and automatic needle threader is a huge help for any user who has unsteady hands or suffers from a condition such as arthritis. Creating personalized stitches is extremely easy to do with it. Due to the voltage and design of the sewing machine it can only be sold in Canada and the United States. Despite this limitation the product has already sold extremely well as an increasing number of consumers have a desire to own one.
Though according to consumers in the know, this sewing machine can be used in other countries as long as one purchases a transformer to convert the necessary voltage from 110v to 220v.
A Fast and Efficient Sewing Machine
As a stylish sewing machine the Singer One Easy To Use boasts the unique SwiftSmart Threading System. With a Drop & Sew Bobbin users don't even have to pick up their thread and insert it into the machine. Threading it is as easy as making sure the thread moves away from the spool and is sent to the area where the needle is found. Users then simply press its lever with their foot to continue the threading process.
Though this sewing machine is appropriate for all age groups and experience levels it is a popular choice among those who are just learning to sew for the first time. One of the reasons for this is that its foot sensor ensures that the user will have their foot in a position that will allow them to easily get into the proper position to get their sewing project done.
Another reason that this sewing machine is so good for rookies is that it comes already set for the optimal length and width that is needed to make a stitch successfully. More experienced users can adjust the settings if they choose to, but it is perfect for anyone who is just learning how perform stitches on a sewing machine.
Other features of this sewing machine include:
drop feed
stitch selection and adjustment
setting for quick view stitch
extra space in which to work
The drop feed feature on this sewing machine allows its lever to move feed dogs down lower in order to not only sew buttons on clothing but also to create monograms or add embroidery to an item of clothing. This is a great feature for anyone who sews handmade gifts or works as an independent clothing merchant. This feature goes above and beyond what many other sewing machines can do.
The one touch stitch selection feature means users can quickly and easily choose the specific type of stitch they want to use. There are automatic built in settings that allow for longer and wider stitches to be performed. This feature makes it easy for users to personalize an item of clothing or other memento in order to create a gift or something for themselves.

The quick view stitch setting makes it easy to notice changes made in the width or length of any given stitch. This can be a valuable tool for anyone that is new to sewing and may not be able to keep track of everything they are doing on the machine. Changing the type of stitch being used is as easy as pushing a button. To speed up the sewing process this machine allows users to sew up to 750 stitches per minute. The DC motor included in the sewing machine ensures that it starts up quickly every time it is turned on, so users can get to work in a timely manner.
Singer One has an arm that is larger than that of most other sewing machines. At 14.7 inches there is plenty of room to tackle bulky items such as quilts, though there is a debate among users as to whether or not this sewing machine can actually be used for quilting.
Maintaining The Singer One Easy To Use Computerized Sewing Machine
When determining the best way to maintain this particular sewing machine many consumers have questioned whether or not they can get a cover for it. While the answer is that there is not one made specifically for this sewing machine one user reports having been able to remove the arm on the left of the machine and storing it in a rolling craft bag meant to be used by scrapbookers.
Included Accessories
There are many accessories included with the purchase of this particular sewing machine. It comes with all-purpose, zipper, buttonhole, blind hem and satin stitch feet as well as bobbins, a pack of needles, caps for the thread spools, a needle plate screwdriver, a lint brush, a dust cover, a spoon pin felt and a foot control.
Pros and Cons
There are pros and cons to owning the Singer One Easy To Use Sewing Machine. Pros include the fact that the machine itself looks as high quality as it is, its quiet, it is easy to transport because it's light weight and it is a very sturdy sewing machine. Various sources claim it weighs anywhere from 17 lbs to 18.5 lbs. This speculation could be partly due to the fact that some users factor in the weight of the items kept in the sewing machine's attached storage containers for items such as feet, bobbins and much more.
LED lights are included with the sewing machine so that users can easily see the stitching floor, making their job much easier. Even if the sewing machine is used for an extended amount of time in one sitting the LED lights (which include three lamps) will not overheat the machine because the LED lights remain cool to the touch.
The cons to owning one of these sewing machines are minor. Most of the parts of the sewing machine are plastic and it can be difficult to use thick, heavy materials in any project. It can also be difficult to use material that has many layers to it. In addition, some users have complained because the machine does not allow them to stop and start the rising and falling of the needle. Users should take the time to carefully read the included instructions as they are quite extensive but easy to follow once a user has made themselves thoroughly aware of the capabilities this sewing machine has. For those who are still having trouble understanding the written directions the machine also comes with an instructional DVD. Calling customer service is an option but users generally wait on hold for a significant amount of time.
Warranty
When one purchases this sewing machine they receive a warranty that is good for 25 years after the purchase is made. This limited warranty lasts 25 years and covers the cost of replacing the sewing machine head should it ever stop working. For the first year one owns it the warranty covers adjustments of the attachments, belts,rings and bulbs. Any electronic parts of the machine will be replaced for free for up to five years after it is purchased.
Teaching Sewing
Many consumers that have purchase this sewing machine have stated that they did so in order to teach their child or grandchild how to sew. More than just a hobby, it is something that can be shared by different generations of family members. One consumer that purchased this sewing machine for his wife stated that when he saw how easy it was to use he immediately went ahead and bought another one for his granddaughter.
Being able to sew is a gift that many people simply don't possess. However, with this machine anyone can learn and improve upon this important skill. Being able to create personalized gifts and momentos is something that few people would turn down the chance to do. For every person who has ever felt like they could never learn to sew properly this machine is the answer to their prayers.
In fact, one friend that purchased this sewing machine had been on the fence about whether or not she ever wanted to try sewing again, due to learning on her mother's old 1970s sewing machine. When she saw how different this sewing machine is from the ones she had used previously she discovered that she enjoyed sewing more than she ever had before.
It's almost impossible to go wrong with this machine because there are so many features of it that consumers simply can't get enough of.