Last Updated on August 26, 2020
**Disclosure: We recommend the best products we think would help our audience and all opinions expressed here are our own. This post contains affiliate links that at no additional cost to you, and we may earn a small commission. Read our
full privacy policy
here.
There are a few things that every seasoned quilter and new has in mind when looking for the best long arm quilting machines for use at home.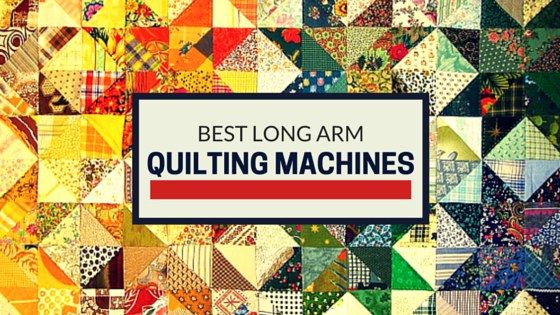 Whether you love large jobs or small, reading this review can show you a few things to look for when deciding on a purchase for home use;
Minimum work space of 9 inches
Large frame
Stitch regulation
L or M size bobbins
Specific quilting feet
Auto thread cutting
Ample lighting

IMAGE
PRODUCT

EDITOR'S CHOICE

Tin Lizzie 18 Sit Down Long Arm Quilting Machine

Custom designed collapsible table
Variable speeds with a foot control
Large bobbin with a built in winder
Automatic needle positioner

Check Price

RUNNER UP

Juki TL-2200QVP Quilt Virtuoso Long Arm Quilting Machine

Color LCD touch screen display
Push button handlebar controls
Laser light
Adjustable front handlebars

Check Price
Juki TL-2010Q

Throat Area: 8.5(L)x 5.9 (H) inches
Sliding Speed Control + One Pedal foot control
LED light
1500 stitches per minute; stitch length 6 mm

Check Price
Juki TL-2000Qi Gracie King Frame

Needle Drop Position is Predetermined
Knee Lifter Lever for Presser Foot (up to 12 mm)
Auto Needle Threading
Thread Tensioner

Check Price
Important Note: Sew Far Sew Good is a participant in the Amazon Services LLC Associates Program, an affiliate advertising program designed to provide a means for sites to earn advertising fees by advertising and linking to Amazon properties including, but not limited to, amazon.com, endless.com, myhabit.com, smallparts.com, or amazonwireless.com. Pricing is based when we wrote this product review and cannot guarantee accuracy or availability. We will correct any inaccuracies as soon as they are brought to our attention
Table of Contents
Long Arm Quilting Machine Reviews
Tin Lizzie 18 Sit Down Long Arm Quilting Machine
Features
1. 18 inch Open Area for Work
These options allow for a large work area that can be taken down to a smaller area if you need extra space.
2. Variable Speed Foot Controls
The foot controls allow for you to control the speed at which you stitch, and this model offers free motion quilters another great option: the collapsing table.
3. Collapsing Table (30 inches Height, 47 inches Wide, 30 inches Deep)
This table drops down to give you more space. Being a sit down machine, it allows for easier free quilting by being compact enough to allow shorter quilters the option of still sitting to work.
4. Needle Positioning for Up and Down Stops
The needle positioning lets you choose whether your stopping position is needle up or needle down. There are no frills and fancy computerized options on this model, but it does offer an all metal frame for durability and longevity.
5. Large Bobbin with Built In Auto Winding While You Work
To determine if the basics are what is right for you, it is suggested that you find long arm quilt machine reviews to see if this will meet all of your needs. Some quilters look for specific things, while others can make do with only necessities due to the projects they undertake.
Making your own decision on this model will take getting personal information from others who have used this model.
Read my Tin Lizzie 18 Long Arm Quilting Machine Review post for more information about this model.
Juki Long Arm Quilting Machines
Juki TL-2200QVP Quilt Virtuoso Long Arm Quilting Machine
A Juki by any other name would not be as great.
The features that make this model stand out are:
18 inch by 10 inch Throat
Color LCD Screen Display
Stitch Regulator
Auto Thread Trimming
Stitching Modes: Precise, Manual, Baste, Cruise
The stitching modes offered on this model allow for just about any kind of project to be undertaken, and the LCD screen gives you the chance to look at the controls and not just guess at what has been programmed based on the larger screen.
The automatic stitch regulator will allow for users to determine if the machine starts, stops, and the speed the motor moves at. Since it has the capability of moving at 2,200 stitches per minute, it can get away from a novice.
And hitting one button gives you the thread trimming of both bobbin and needle threads at the same time. No more pulling and tugging to get to the bobbin thread and possibly pulling a stitch.
The need for reading reviews is dire for this model. There are options available that the manufacturer does not offer, and kinks that a new user would be lost on if they encountered them.
Therefore, reading through a few good reviews would be most beneficial to anyone who has not ever used a Juki machine of this caliber.
Check out my Juki TL-2200QVP Quilt Virtuoso Long Arm Quilting Machine post to know more about its features.
Juki TL-2200QVP Long Arm with Grace Virtuoso King Frame
This unit made by Juki offers one of the best heights in the industry for home machines, and has features that make it a definite keeper.
Here are the high points:
10 inch Height
18 inch Throat Space
Auto Scissors
Bright LED Lighting Over Needle
Ergonomic Handlebars
One Touch Needle Position
Front Hand Wheel
Auto Bobbin Winding
2,200 Stitches Per Minute Max Speed
Take Up Bar
This specific Juki machine allows for ten inches of height, whereas most other machines only offer 8 inches. This allows for you to work on larger projects, and use more material at one time.
The super bright LED bulbs used over the needle make it easier to see even your tiniest details while working and keeps you from getting those pesky headaches we have all got from eye strain.
One really nice feature is the automatic built in scissor function. This trims both the bottom and top threads at the same time, so you don't have to worry about flipping material over and taking a chance on ruining your last stitch.
The handlebars on this model are able to swivel into the smaller micro handles so you can get even closer to your material to work. The front hand wheel lets you have easier control over raising or lowering your needle, without reaching or walking to the other end of your machine to do so.
The needle placement button lets you decide if you want the finishing position of the needle to be up or down, so it's not a requirement to use the hand wheel if you do not choose to.
Take up bar: no more adjusting your frame or railing because there isn't enough room in the throat to accommodate. You can simply roll up the material onto the bar so it isn't on the floor and is no longer a trip hazard while working.
And the ultra glide tracks offer 8 ball bearings that run the frame's track so you always have a smooth quilting experience without the jerks and pulling that are seen in older models.
The Virtuoso King frame offers a 10 foot frame area. The metal frame offers stability where wood sometimes falls short. And this frame can be set up in King or Crib fashion, making it a little easier to use.
The entire frame is height adjustable, so if you are only five foot two inches, you can still work without stretching to your limits.
It is entirely up to you as a quilter, what you would like to spend on a package deal. But do yourself a favor and check out some of the best long arm quilting machine reviews to get an idea to see if this is the machine for you.
The Juki TL-2000Qi Gracie King Frame
This Juki is a grand display of majestic quilting capability, for the right person.
Below are a few options offered:
LED Lights

Auto Thread Trimming

Speed Control

Quilting Foot

Needle Drop Position is Predetermined

Knee Lifter Lever for Presser Foot (up to 12 mm)

Auto Needle Threading

Thread Tensioner

Presser Foot Pressure Adjustments

Max speed of 1,500 stitches per minute

Feed Dog Switch Controlled Raise/Lower
This popular Juki model is one of the newest by the manufacturer that offers many of the sought after features that quilters love. This unit offers 9 inches between the needle set and the arm, so projects of any size can be completed.
Being a single needle with lock stitch machine, it also even offers one pedal controlling for trimming and speed.
The Gracie frame is the largest this company offers, and gives you stability while working. You do not have to set it up as the King (122 inches), as you can also set it up as the Queen (99 inches) or Crib (63 inches) for smaller areas.
The legs are completely adjustable in height, and the lower rail is a flip up so you never have to worry about messing with your project by simply adjusting your batting underneath.
An additional fourth rail is included also, so that your materials never have to rest on the floor.
And let's not forget the ease that is the program QuiltCAD. This software allows you to choose from over 100 custom blocks, borders and pantographs already built in to the program from any home computer running a Windows operating system of 2000, XP, Vista or 7.
You can make your own patterns or even use pictures on your computer to make a pattern.
As far as stitch regulation, the Grace SureStitch dual function stitch regulator gives you the option of using it as simply a regulator or a speed control. This small unit offers colored lights to help you see when max speed has been obtained, and a pulse button to change it over to a constant speed mode.
This allows for you to have a professional stitch tie off and perfect stitch length every time.
A few other items included in this deal that every quilter will need are the 20 L sized metal bobbins and the 100 Organ branded needles. Drop feed is ideal for any quilter, and this machine doesn't let you down in this area.
It also offers a 1/5 quilting foot and has the extended table for additional room for the larger projects.
Doing your research and current owners reviews will help you decide if this one will be the best deal for your money.
Top of the Line 18 Inch Long Arm Quilting Machine with Debutante Frame
This fantastically designed long arm machine offers you the newest in bright white LED lighting, and the Debutante frame by Grace make it a very interesting find.
Here are some of the features:
Brightness Adjustment on Lights
Ergonomic Handlebar
Extra Large Bobbin with Auto Winder
Rear LCD Handlebars
Five Stitch Regulating Modes
Special Needle Positions
This machine offers a built in bobbin winder so it winds as you work. Along with the thread stand, you get quiet and very smooth operation and stitching. And the lighting: we all know what it is like to try to get a good look at your work and be let down by having to bring in additional lighting.
With these white light LED bulbs, you get to see what your project truly looks like.
The ergonomically designed Rams Horn handlebars allow for less stretching and strain when quilting. The rear LCD handlebars make completing a pantograph from the back of your machine much easier, since you are able to see clearer.
The LCD screen offers built in controls for the head, including a Jog function which allows for the motor to move only when the button is engaged. You will not only be able to see the screen without straining, but can easily control your project with a few touches.
You can use the Tie off up or down switch, which allows your machine to tie off the stitches and leaves your needle in the up or down position. There is even the capability with this machine to use a robot, such as the Quilt Motion or Q-Bot.
Stitching Modes:
Equate: Machine stops, needle stops.
Ruler: The machine doesn't time out while waiting for you to move the ruler.
Robot: Offers full control of machine to your robot.
Quilt Motion Robot: Grace's Quilt Motion Robot can take over.
Cruise: Needle moves when machine is stopped.
Basting: Offers four stitches in every inch.
My Final Advice
It is best to read relevant reviews about long arm quilting machines as there are a lot of information based on experience and they might give information and issues that the manufacturer does not list the info pages are useless. Locating good reviews will allow for you to get opinions from real quilters like yourself, so that you're not left in the dark about a new model you are purchasing.The pricing for the long arm quilting machines are higher than an average sewing machine, and for this reason it is suggested that you get all the information possible before opening your wallet. There will always be a few people who aren't happy, and it's great to see those also. At least in this manner, you are educated on your purchase and know what to expect.