**Disclosure: We recommend the best products we think would help our audience and all opinions expressed here are our own. This post contains affiliate links that at no additional cost to you, and we may earn a small commission. Read our
full privacy policy
here.
This Juki TL-2200QVP quilting machine for the home gives you so many options from a laser light to an auxiliary hand wheel.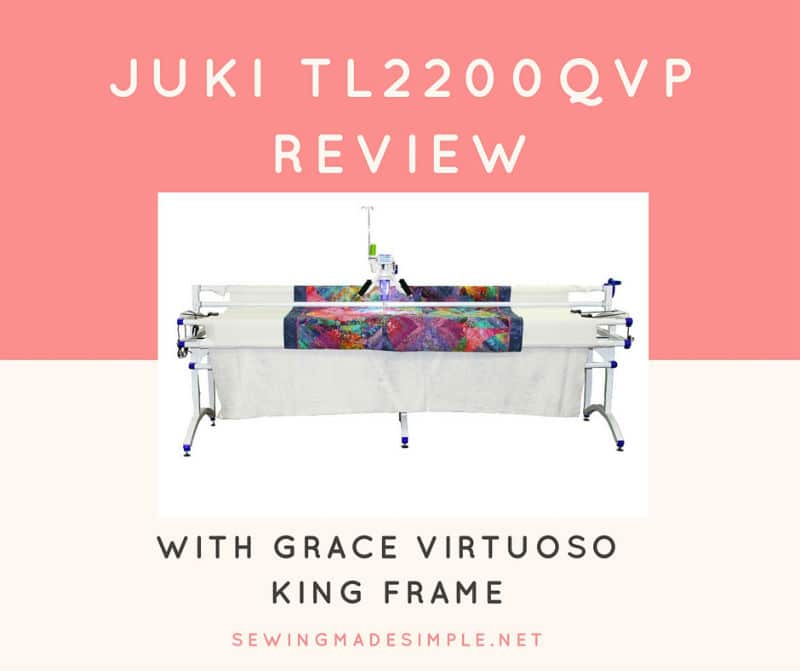 Important Note: Sew Far Sew Good is a participant in the Amazon Services LLC Associates Program, an affiliate advertising program designed to provide a means for sites to earn advertising fees by advertising and linking to Amazon properties including, but not limited to, amazon.com, endless.com, myhabit.com, smallparts.com, or amazonwireless.com. Pricing is based when we wrote this product review and cannot guarantee accuracy or availability. We will correct any inaccuracies as soon as they are brought to our attention
For those that are just starting out, the hand wheel can be an exceptional tool for learning your stitch patterns and speed control. The overall price is more than the previously detailed machine, but is well worth the investment in the long run.
The top speed of this long arm quilting machine for your home is 2,200 stitches per minute, allowing for a more efficient stitch line and completion of projects.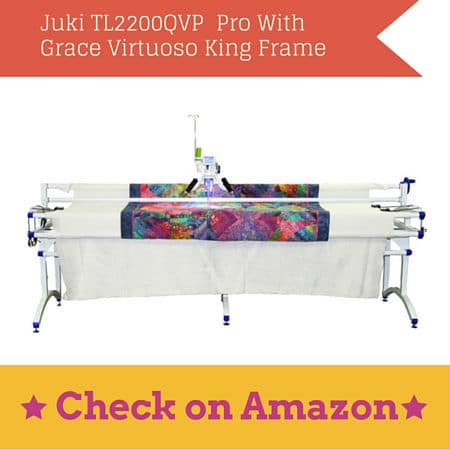 Features
Color LCD touch screen display
Push button handlebar controls
Laser light
Adjustable front handlebars
Auxiliary hand wheel
Built in bobbin winder
Automatic needle positioner
Four stitching modes
Thread trimmer
Built in stitch regulator
QuiltMotion programming
For those who want a professional finished product and a personal touch to boot, the QuiltMotion program is available for this model machine.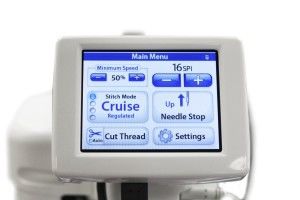 The color LCD touch screen allows for you to trace patterns from a picture, edit and design blocks, pantographs or even create a full quilt. Included in the program is a library with over 200 patterns included. So if you really enjoy quilts but don't want the hassle of making one personally, this automated quilting system will do it for you.
Simply choose all of your options and the pattern you want, set up the machine with the materials and hit the button to go. In a matter of time, your new quilt will be completed and ready to use.
The touch screen allows for you to control the stitch regulator, stitch length, needle position, thread trimming and LED light settings with just a few touches. The handlebar controls are easy to use, as you can start and stop the entire machine with the right handlebar.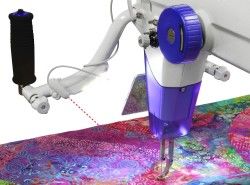 The left handlebar allows you to control the thread trimming and the needle up and down positioning. The front handlebars are adjustable, so you can move them wherever is most suitable for your daily use. Up and down or even to the side, your handlebars can be adjusted for comfort.
The laser light at needle position allows for your sight to follow the stitching in patterns and pantographs, so you are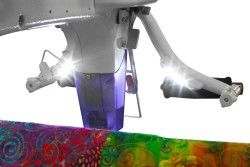 never again at a loss when working. The hand wheel on the right side of the machine offers you an ergonomic design so as to help you avoid getting a cramped hand and strained shoulder since it is easy to reach. The built in bobbin winder works while you are working, so you are never left with an empty bobbin while working.

This machine is considered a high capacity, as it 18 inches in length and 10 inches in height for a work space. The stitch regulator is built in, and lets you create perfect and accurately placed stitching. Once you choose your stitch, the on board computer works with the programming and encoders to keep that stitch true regardless of other factors.The dry head system means every once in a while you may need to oil the hook, but the rest of the machine is dealt with easily. The four stitch modes include manual, baste, precise and cruise.Lastly, the direct drive motor keeps your work smooth with very little noise and practically no vibration at all.
From looking at reviews and manufacturer specifications for this model, it appears that no less than a 15 foot by 8 foot space is required for correct use of this machine. The standard machine comes with a ten foot stand and the option is available for a two foot extension, and height is fully adjustable.
Should You Buy The Juki TL-2200QVP?
For beginners who are looking to create their own unique quilts, the best long arm quilting machines for home use in my opinion is the Juki model. It allows for fingertip precision programming, and the easy to use interface would let just about anyone make their own quilt.
If you are looking for one that offers numerous options and will help the seasoned quilter get the job done faster, this is it. I did not find any complaints or major issues with this model from consumers who currently have it, and did not see any problems with its use in videos. Watch below video to see all the nice features of the Juki TL-2000QVP so you know what to expect when you decided to get this machine.
If you're new to quilting, then you might think that finding the perfect quilting machine that you can use at home is a stressing task especially when you know that you are about to spend huge amount of money depending on the brand and features you get. Be sure to make your purchase after you have done your homework. I hope you find my Juki TL-2200QVP review helpful. If you are still torn between Juki TL-2200QVP and Tin Lizzie, contact the manufacturer of each to see if you are able to test drive one or the other.