**Disclosure: We recommend the best products we think would help our audience and all opinions expressed here are our own. This post contains affiliate links that at no additional cost to you, and we may earn a small commission. Read our
full privacy policy
here.
g
Janome 2212 is a sturdy, streamlined sewing machine for both beginners and experts. It's a best starter sewing machine for beginners that has reliable features, lightweight design and much more for intermediates and advanced sewist.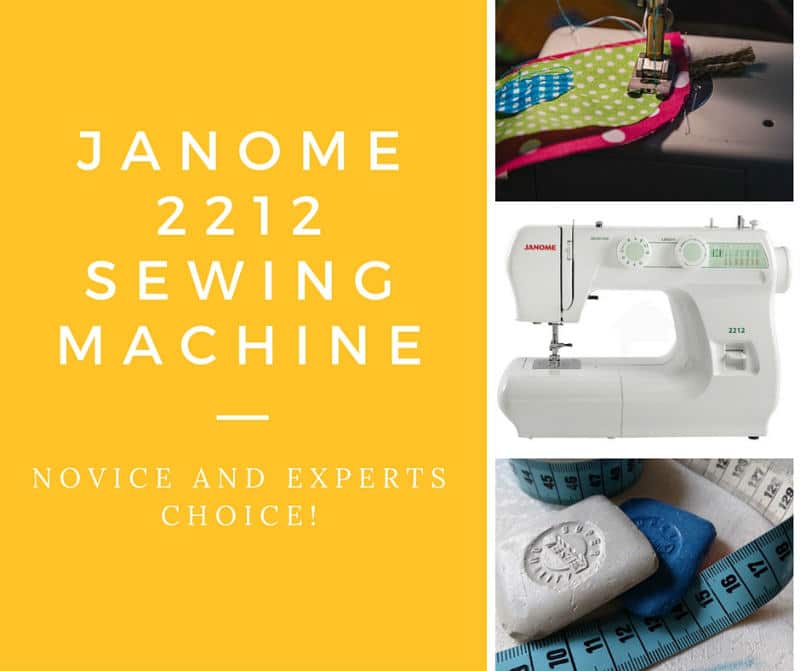 Important Note: Sewing Made Simple is a participant in the Amazon Services LLC Associates Program, an affiliate advertising program designed to provide a means for sites to earn advertising fees by advertising and linking to Amazon properties including, but not limited to, amazon.com, endless.com, myhabit.com, smallparts.com, or amazonwireless.com. Pricing is based when we wrote this product review and cannot guarantee accuracy or availability. We will correct any inaccuracies as soon as they are brought to our attention
Best Starter Sewing Machine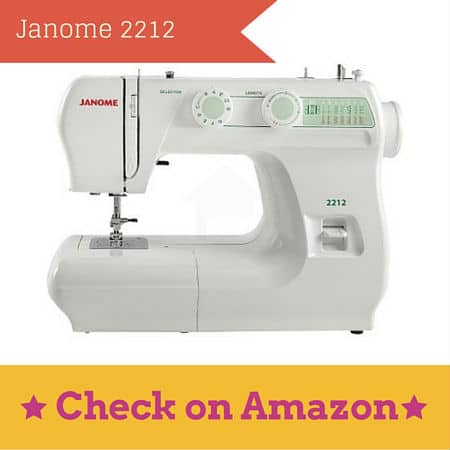 For novice crafters, Janome 2212 provides all the major features and functions necessary for a great start. It is also a popular machine for more experienced sewers and seamstresses as a backup equipment or a handy portable sewing machine.
This sewing machine is easy to thread and delivers quality basic stitching. Operation is simple, and the instructions are easily understood by new users. It is one of the best sewing machine for the money, and because of its sleek and compact design, it can be stored conveniently, even in small closets or storage spaces. You simply cannot go wrong with this model.
Major Features and Functions
What can you expect from this Janome model? There is much more than meets the eye within the sleek design of the Janome 2212.
Primary features and functions of this modern sewing machine include:
12 Built-in Stitches with Dial Selector and a Free Arm
Snap-on Presser Feet and a Front Loading Bobbin
Capacity to Sew Up to 860 Stitches Per Minute
1 Four-Step Buttonhole Option and Zigzag With Adjustment
Having the choice of 12 different built-in stitch variations with a convenient dial selector is advantageous for seamstress of all levels. In addition, free-arm sewing is especially helpful in preventing material bunching or puckering around the needle while sewing. It allows easy fabric positioning for stitching pants legs, shirt sleeves and waistbands or for mending tears or imperfections in garments.

Snap-on presser feet promote smooth, tangle-free stitches and straight stitching lines even for beginners. The front loading bobbin makes bobbin changing and re-threading a breeze. This machine is surprisingly fast and efficient, with sewing capacity of as much as 860 stitches per minute. The easy-to-use four-step buttonhole function is a great aid for novices, and the adjustable zigzag action is very useful for zigzag stitching on different types and weights of fabric.

Outstanding Options
More important operating features include:
2 Needle Positions and Drop Feed Dog
3-Piece Feed Dog and Built-in Thread Cutter
Maximum Stitch Length of 4mm
The two needle positions are important for assuring, regular, smooth stitching on fabrics of different thickness, weave and weight. The drop feed dog allows free-motion stitching and quilting. The drop feed automatically moves to the upward position when the machine is in operation, and it must stay in this position while sewing. The drop feed dog should always be down while the sewing machine is not in use and for storage.
Having a 3-piece feed dog promotes stability of needle and fabric position during sewing, and the built-in thread cutter eliminates pulling or bunching stitches while attempting to cut thread closely with sewing scissors. This machine's maximum stitch length of 4mm permits a variety of stitch sizes below this limit and avoids loose stitches that are too long to maintain necessary thread tension.
Other convenient features included are manual tension control, a lamp, a push/pull bobbin winder and a foot controller.
Helpful Tips: The Janome 2212 User Manual
Aside from clear, concise operating instructions and troubleshooting advice, this model's User Guide includes helpful information about matching fabric weights with appropriate sewing threads and sewing machine needles, such as:
• Light Weight Fabrics. – Crepe de chine, voile, silk, organdy, fine cottons or synthetics: Use lightweight fine cotton or polyester threads and size 9 to 11 needles.
• Medium Weight Fabrics. – Linen, pique, silk blends, serge, double knits, cotton blends or percale: Use medium weight synthetic or cotton-covered threads and size 11 to 14 needles.
• Heavy Weight Fabrics. – Denim, tweed, raw silk blends, gabardine, upholstery or drapery material: Use heavy weight cotton-covered, polyester or other synthetic threads and size 14 to 16 needles.
Customer Comments and Advice
What are Janome 2212 buyers and users saying?
Advice and comments from owners and users of this modern Janome model can be extremely helpful to shoppers considering a sewing machine purchase.
By reading comments from a wide range of customers, from those still in the early stages of sewing to experienced experts, consumers can gain the most helpful knowledge and feedback to aid them in making a purchase decision.
Some of the most helpful pros and cons provided by customers about their Janome 2212 sewing machines are the following comments:
Pros
Consumers report this sewing machine as being:
• Solidly built and simple to operate
• Lightweight and easy to carry or store
• Moderately priced
• Easy to thread, providing reliable basic stitching
• Constructed to sew smoothly through several fabric layers
• Large in size for a lightweight machine at 15 in long, 11 in high and 6 in deep
And Some More Good Points…
Customers are pleased that this Janome model weighs in at 13.2 lbs and comes with a handle that folds. They also like this machine's soft-surface cover. The majority of owners are delighted with the great accessories included like extra needles, bobbins, a convenient seam ripper and a comprehensive user's manual.
Useful storage space is included within the machine's extension table. One major plus is that this attractive sewing machine comes with a 25-year limited warranty.
Satisfied customers report that Janome 2212 manual not only walks you through explanations and instructions for making the best use of all mechanical parts, features and functions—it also provides information and advice on maintenance of your sewing machine.
Also provided are helpful sewing tips and advice on use of attachments and extras. Helpful troubleshooting techniques included can often solve a puzzling sewing issue or problem in just one or two simple steps.
This is reported as extremely helpful, especially by sewing newbies.
Cons
Some customers had criticisms of this model, such as:
• No automatic needle threader included
• Awkward front loading bobbin
• Noise level somewhat annoying
However, with a little practice, even beginners will become proficient at needle threading in no time. The front loading bobbin will seem normal once they become accustomed to this feature.
In fact, many new users of this Janome model discover that they actually prefer front placement for the bobbin loading function. As for the noise level, this machine is much quieter in operation than the new Singer models, and with regular use, the mechanical sounds of the Janome 2212 will seem perfectly normal.
Some potential buyers of the Janome 2212 sewing machine are disappointed that this 110-volt machine is designed strictly for use within the United States. Some beginning users of this machine have reported problems with thread jams in the front-loading bobbin. Also, the wheel requires rotating by hand for correct needle positioning before stitching to prevent jamming.
Of course, with use of proper electrical voltage converters that are available in most luggage and travel supply shops or convenience stores, the voltage issue will no longer be a problem.
Thread jams can be an annoyance for users of all brands and models of sewing machines. However, after sewers become accustomed to new machines and gain more sewing experience, they usually have much less trouble with jamming occurrences. Also, the majority of sewing machines require some manual rotation of the wheel to attain correct needle placement before initiate stitching.
Some users also report unexplained needle breakage while sewing and problems with achieving the correct tension while stitching. Another problem some owners encounter is that the needle bar moves out of alignment unexpectedly. Some users are also disappointed that the user manual does not list bobbin sizes for needed replacements.
Problems with needle breakage and thread tension levels are best resolved with sewing practice. Also, once sewers learn to operate their machines smoothly, they will no longer be hampered by unexpected movements of the needle bar.
When you need additional or replacement bobbins for your sewing machine, contact the dealership or sales company that sold you the machine to determine the correct bobbin size for your Janome 2212.
Janome 2212 Vs Other Sewing Machines
How does this Janome model compare with other popular sewing machines?
There are various other quality brands and sewing machine models that consumers compare with the Janome 2212 before making their purchase decisions, including these machines:
Janome 2212 Vs Brother XL2600i
Brother XL2600i is designed for beginners as well as experienced sewers. It offers 25 built-in stitches and a simplified, one-step buttonholer. This machine also includes five different presser feet and is sold with a 25-year warranty from the manufacturer. These specifications can be compared with the Janome 2212 model's 12 built-in stitches and four-step buttonhole feature. Both are good machines, especially for beginners.
However, in my own opinion, Janome 2212 has an edge in terms of longevity due to its solid, streamlined design.
Janome 2212 Vs Singer 7258
Singer 7258 offers 100 separate stitching styles, a handy automatic needle threader and easy sewing speed adjustments. It also includes a continuously lit LED screen along with an automated bobbin winding feature. This sewing machine has the capacity to stitch as many as 750 stitches per minute. Potential buyers can compare these features with the Janome 2212's 12 built-in stitches and stitching capacity of 860 stitches per minute before making their purchase choices.
Janome 2212 Vs Janome HD1000
Janome HD1000 is a lightweight, but extremely powerful sewing machine. It is equipped with features and functions for stitching on thick, heavy industrial weight fabrics as well as lighter materials. Its design and build are more solid and durable than the Janome 2212. Nevertheless, the majority of sewing enthusiasts do not need such a heavy-duty machine.
---
Without question, the Janome 2212 is a desirable option for many sewing machine shoppers today. Although it is a good starter sewing machine because of its basic design, its strong, durable structure and reported longevity make it a favorite for sewing enthusiasts of all levels.

Whether you are just starting to sew or are a long-time, experienced sewer, seamstress or designer, I think that the Janome 2212 is a good model to consider. This model is a great introductory sewing machine for novices and a backup model for experts.