**Disclosure: We recommend the best products we think would help our audience and all opinions expressed here are our own. This post contains affiliate links that at no additional cost to you, and we may earn a small commission. Read our
full privacy policy
here.
If you are looking for the best inexpensive sewing machine for beginners that will not cost you a ton, then the Brother XL2600i Sew Advance may be the right option for you.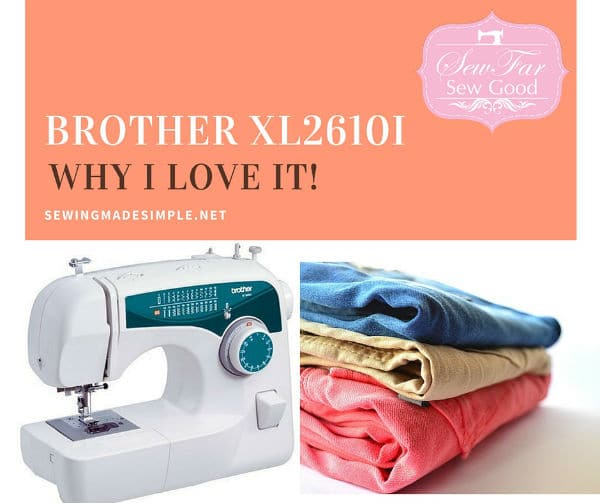 There are a few things you should know about this sewing machine. This review will help you to determine if this is the right one for you.
Important Note: Sew Far Sew Good is a participant in the Amazon Services LLC Associates Program, an affiliate advertising program designed to provide a means for sites to earn advertising fees by advertising and linking to Amazon properties including, but not limited to, amazon.com, endless.com, myhabit.com, smallparts.com, or amazonwireless.com. Pricing is based when we wrote this product review and cannot guarantee accuracy or availability. We will correct any inaccuracies as soon as they are brought to our attention
Best Sewing Machine Under $200-$300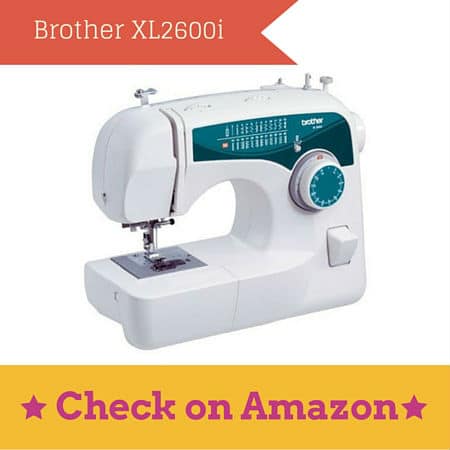 Brother XL2600i is decently priced under $200-$300 for all the features that come with this machine. While it may not be a bulky sewing machine, it is not like many of the cheap and portable mini sewing machines that only do one or two stitches.
With this, you will also find that it is lightweight enough to move around if you do not have a dedicated sewing table.
Some people go with this model if they are teaching their child how to sew. This can be a great choice for a starter sewing machine or even for a more experienced sewer who simply does not have much the room for something bulky.
The Brother XL2600i sewing machine manual is full of pictures if you are trying to teach yourself how to sew using this machine. If you want a better understanding of how to use this model, please watch the Brother XL2600i video below.
There are 25 different stitches you can use with this sewing machine. This should cover the majority of what you plan to use it for. Selecting the right stitch is as easy as turning the dial. With this, you will also have a built in free arm for working with cuffs or pant hems.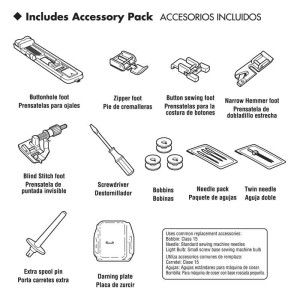 This is a lightweight sewing machine, as it weighs in at 13 pounds. With this, it is only 12.3″ long, 7.7″ wide and 9.6″ tall. It also has a few convenience features such as:
One step button holer

Drop in bobbin

Easy needle threader

Jam resistant bobbin

Easy bobbin winding
These are just a few of the features that you will find when you go with this sewing machine. Along with this, you will receive a 25 year limited warranty on the machine. You will also have the option for free phone support to help you with any trouble shooting on the machine.
How Many Feets?
Brother XL2600i has six feets:
Buttonhole foot


Button sewing foot

Narrow Hemmer Foot

Zipper foot

Blind Stitch foot
Pros and Cons
Many people go for this model because of the price, but there is so much here that is worth taking a look at. The fact that it has all the great features you would want from a heavy duty sewing machine without having the bulk and price is the real reason to go with the model. Whether you are working on a quilt or just need to hem up a long pair of pants, you can do what you need to with this machine. This is the real reason that people are buying it. Plus, Brother has become well known with sewing machines for offering quality products at affordable prices.

Downfalls of the Machine
There are a few drawbacks that some owners have experienced with this sewing machine. One was that they felt that the directions in the manual were hard to understand because rather than having the directions in English and then followed by Spanish, they translated after every sentence. This was easily remedied by highlighting the English sections and using the plentiful pictures provided.
Another thing to be aware of with this model is that the thread spindle can only hold small spools of thread. The way that people have gone around this is by buying an accessory to make this bigger. Others have simply used new chopstick to make it taller so a larger spool of thread can be used when sewing.
Accessorized It!
The good news is that there are plenty of sewing machines accessories that you can buy with this model. One of the best things to buy with this is the carrying case. Even if you will keep it on a sewing table in your craft room, you want to keep it in this to help it stay protected from dust and other particles that can get to it. This is the best way to keep your sewing machine working optimally for the longest amount of time.
On top of this, you can buy other accessories that can help make your projects easier on you, such as different feet for the machine. With this, many sewers opt to invest in additional bobbins just so you have them handy for projects. Do not forget to make sure you have plenty of thread. You may want to stock up on many spools of thread at a time so they are there when you decide to work on a project. Since the right color for your thread is essential, you want to make sure you have an ample supply.
Summary
There are many great features that this machine has to offer. You will need to keep in mind though that this is not an industrial model. If you try to do industrial projects with this you may find that you do not like the results you get.
However, if you are looking for a best beginners sewing machine that can help you accomplish your goals for sewing around the house or even for craft shows, then this can be a great option. You will find that you can do both basic and decorative stitches, making this ideal choice for embroidery on the sewing machine.

Since it is not bulky you will not have to worry about it taking up a ton of space in your home either.
Getting a best sewing machine for the money is hard to find. Brother XL2600i will help you get the results you are looking for in a sewing machine without having to spend a ton of money.