**Disclosure: We recommend the best products we think would help our audience and all opinions expressed here are our own. This post contains affiliate links that at no additional cost to you, and we may earn a small commission. Read our
full privacy policy
here.
Brother LS2125i brings the old sewing machine into the modern age, shattering old myths about how and where a cheap sewing machine can be used today. The best part? It is so inexpensive.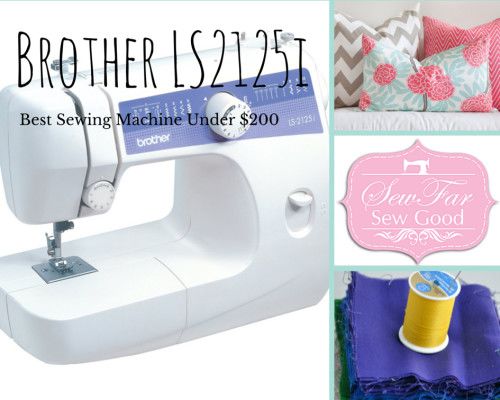 Important Note: Sew Far Sew Good is a participant in the Amazon Services LLC Associates Program, an affiliate advertising program designed to provide a means for sites to earn advertising fees by advertising and linking to Amazon properties including, but not limited to, amazon.com, endless.com, myhabit.com, smallparts.com, or amazonwireless.com. Pricing is based when we wrote this product review and cannot guarantee accuracy or availability. We will correct any inaccuracies as soon as they are brought to our attention
When one thinks of a personal sewing machine, the image of a bulky and heavy machine bolted to a well-work table comes to mind. The memory image shouldn't be a surprise; it's been the stereotypical view of a manual and electric sewing machine for decades.
Best Sewing Machine for The Money
Design with Purpose
When the LS2125i sewing machine was first put out the market by Brother, better known for computer printers, the unit already had a target market versus just being another generic sewing machine. The model's design took into account the hassles new amateurs faced working with their own sewing machine for the first time.
Instead of forcing newbies to stumble on another bulky, heavy sewing machine, the LS2125i brings simplicity and lightness to the game. The machine has far less weight, its learning features are almost intuitive, and it performs very well for basic beginner sewing and tailoring modifications. The LS2125i lightweight approach also makes it extremely portable, which allows for quick fixes, modifications and alterations on the spot – a godsend to designers and clothesmakers who have to make changes on the fly.
Other Features to Consider
The Brother LS2125i sewing machine model also comes with 10 built-in stitch methods, so a user can vary from a zigzag to a blind hem in seconds and then onto a stretch stich as needed.

Switching modes is handled by simply twisting a hand dial on the Brother machine rather than some old-style, complicated resetting of the needle system.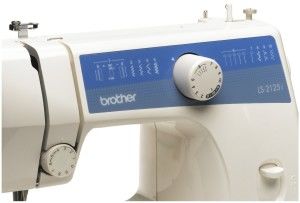 So as a user graduates from a basic single stitch method to multiple approaches with a complicated project the simplicity of the Brother machine allows the user to focus on developing her sewing skill versus wasting time working the machine's technical side in frustration.
The multiple controls on the LS2125i include the carrying handle for quick, sturdy movement, a 3-option speed control with the foot pedal, a free arm position and a flat bed use mode as well.
To make things even more interesting, the Brother model comes with an auto-4-step buttonhole guide, making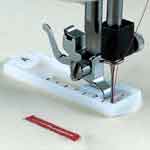 it a snap to stitch 4-hole buttons quickly. This comes in particularly handy for coats, sweaters and other projects using buttons for closure and attachment while being worn.
Further, with a 15"w x 6.5"d space print the Brother LS2125i can be easily placed and used on small table, a desk, a dinner table, or a counter.
The light weight features makes this unique Brother sewing machine far safer to work with in tight quarters or around children since it won't represent a heavy weight risk that could fall off the table.
Everything stays in place while in operation, nothing bumps other items on a work table, and all the machine's accessory parts are kept in place until needed. The LS2125i design is about as secure as it gets when using a sewing machine on the go.
No Worries in Function
For consumer concerns about protection of LS2125i parts and manufacturer support, the Brother sewing machine comes with a 25-year limited warranty, backing up the LS2125i's design and construction. In terms of user support, the machine package also includes a bilingual manual for instruction, available phone support for customer questions, and online support via the Internet.

That said, this Brother sewing machine shouldn't be considered for multi-country distribution. Even with a plug power adapter, the Brother LS2125i sewing machine only works correctly with a 120 volt on an AC flow. Using it otherwise risks serious damage to the sewing machine.
Extras
On the accessory side, the Brother sewing machine packaging for the LS2125i comes with a variety of tools that a user will eventually need. Some will come in handy right away. These include a basic screwdriver sized to the LS2125i's parts, a darning plate, an extra spool pin for quick access thread storage, a bobbins, a twin needle, and a needle pack for different needle and thread size applications.
These various tools, when not needed, can all be stored in the included storage compartment in the free arm to prevent their loss or misplacement.
When it comes to thread tension, having the right amount is critical to make sure a stitch goes in correctly. Too loose and the stitch will stick out with obvious wide loops and will represent a weak point for breaking over time. Too tight and the look will bind up. With the LS2125i's ability to manage thread tension via the tension control dial feature, these problems are completely avoided. No matter how much switching is needed between different fabric strengths and weaknesses, the tensioner control will fix the setting quickly.
Other machine extras and accessories include:
Three different foot controls that can be clicked on quickly to switch out with problems. These include a zipper foot, a buttonhole foot, and a button sewing foot.

A standard foot controller pedal.

Easy-to-follow diagrams on the LS2125i machine body showing exactly how to operate and thread the machine. Just following the steps correctly will have a user threaded and sewing in a few seconds.

The free arm feature allows easy sewing of cuffs, sleeves, and pant legs.
---
In Summary
So, if you're thinking about replacing a bulky, older sewing machine to get into the modern age of sewing or you're just trying to find a unit that works well for a beginner that will not break the bank or a user who needs to work in different locations, then the Brother LS2125i may be the right answer the budding tailor is looking for.
The combination of easy-to-carry weight mass, very reasonable and cheap price tag, a small footprint, multiple accessories and controls, and great written and online support for user questions make the Brother sewing machine one of the best sewing machines for the money. Brother's versatility makes it extremely attractive to many different sewing machine users, especially those needed more flexibility with how a sewing machine can be applied.