After those first few weeks of learning the basics about a sewing machine and how to control it, your child may be proficient enough to start making their own sewing projects. Yet their creativity has tuckered out. They are giving you the big, sad puppy eyes and you are scanning your sewing books trying to find a pattern that they haven't done already.
Check out these projects and let your child pick the one that they like the most. Then gather the supplies and start sewing!
Colorful Fabric Bows
This project would most likely bring out the fashionista in your baby girl. Making these fabric bows would give them a sense of doing something creative, while also giving you a glimpse into how wild their imaginations run.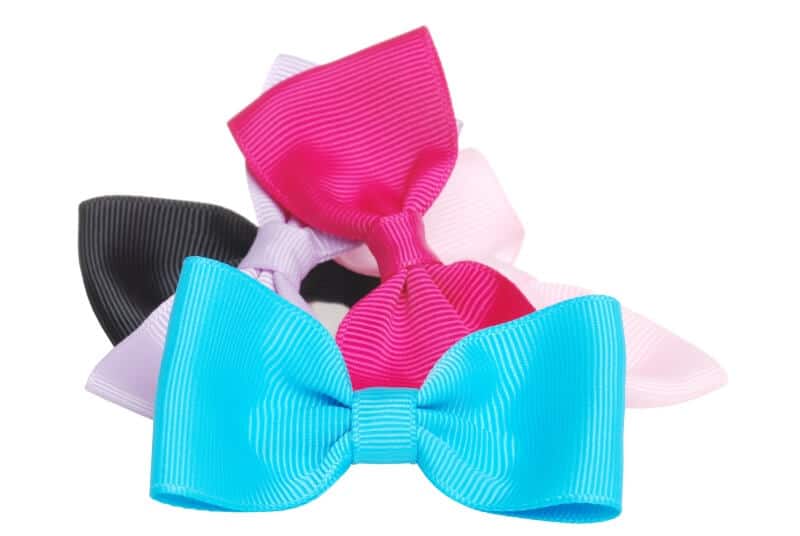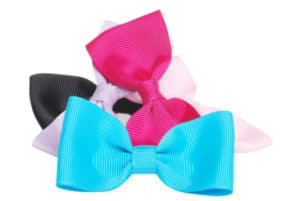 What you need:
A little piece of cotton
Hair clips
A small strip of any colorful fabric (it would be best you let your child use a fabric they want)
As you can see, these bows are very cheap to make, and they would make excellent gifts.
Step-by-step Tutorial on How to Sew Fabric Bows
Cut the fabric into a rectangle shape 3" by 7"
Fold it into two and sew the long end. Ensure you put in ¼ inch seam allowance.
Turn it inside out, and smoothen the seam in the center.
Fold the ends of the fabric into the middle and slightly overlap it. carefully sew it in place
Press the middle of the bow and bind it in the middle with the ribbon. You can use 3/8″ for your bows.
Keep the ribbon in place using any strong fabric glue. And you can use a clothe pin to secure everything in place, and wait for the glue to dry completely.
You can then proceed to attach the clip to the back. For it to look more professional, you can wrap up the clip with the same ribbon used.
As soon as the glue on your clip dries, your bow is ready to wear.
That was very easy, and you don't have to use a coordinating thread, because it's not going to be visible after all.
Super Hero Mask
Like I mentioned earlier, there is something for the girls and the boys as well. Your little boy would have fun making this mask, as it can even make him feel like the cartoon character "batman." It's also very easy to make, and in no time, you can sew many different colors.

What you need:
Heat'N Bond
3/8" braided elastic
Washable felt
Step-by-step Tutorial on How to Sew Super Hero Mask
Join two layers of the washable felt using the Heat'N Bond
Carefully trace a mask outline onto a mask and cut it out
Stitch around the eye holes and the perimeter.
Sew the elastics to the two edges of the mask
Make sure your kid measures his head and uses the right measurement of elastic, so it doesn't pull the mask too much, or mash the eye holes.
That's it… Very easy and fun to make, your girls can even try it out.
Fabric Key chains
It can be frustrating finding your car keys in a bag full of stuff, so why not let your kids make you cute keychains so that you can hang it on your waist. And what's more, it's easy to make, and you would agree it can be really handy.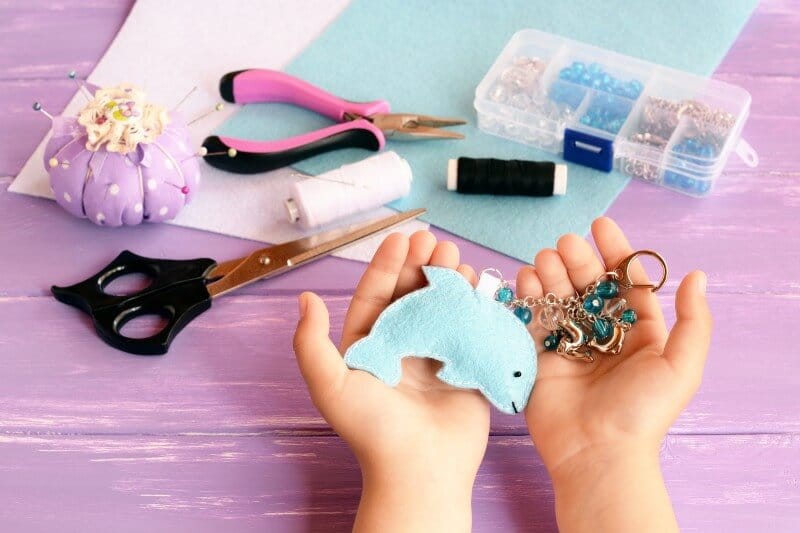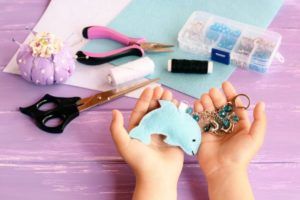 This particular project might take longer than the usual, but ensure you keep your child entertained at all times. Remember, sewing is supposed to be fun and not stressful.
What you need:
1 strip of fusible interfacing
4" ribbon, using 7/8" width
Matching thread
2 coordinating fabrics
I purse strap clip
Step-by-step Tutorial on How to Sew Fabric Keychains
Cut both fabrics so you can have a strip of each material with the measurement 2.75″ by 13″. And cut 1 strip of the fusible interfacing to 0.75″ by 12."
Iron the strips of the two coordinating fabrics, just ¼ of an inch to the downward side of the fabric facing down on your ironing board.
Use a card stock paper to fold the fabric over so that you can have an even hemline.
After ironing the two fabrics, fold the material into half-length and iron. Ensure that the edges match nicely.
Take the strip of the fusible interfacing and put it in between the two fabrics.
Iron it together so the top and bottom can fuse together temporarily, making it easier for you to sew
Sew along closely to the two edges of the key chain
Slide your purse clip on the key chain, and make sure the clip is on top of the material you want outside the key chain.
Place the two raw edges in a way where one is positioned one top the other, about ¼ inch.
Sew it together with any stitching of your choice
Take your 4-inch ribbon and burn the edges with a lighter, so it doesn't loosen with time.
Place the purse clip around the key chain, so the seam is about ½ inch above the clip.
Use the ribbon to warp where the two ends have been sewn.
Neatly put both ends of the ribbon inside the key chain.
Use a small pin to secure the top and bottom in place and then sew.
Sew your seam more than once, so it can hold up.
Voila, your cute functional chain is all set.
Now, I'm sharing projects we found from other amazing bloggers. Thanks to the Internet, people have shared thousands of project ideas (with pictures!) so your child can regain their creative side and get their fingers moving along the fabric when at their very own sewing machine. I've gathered together a list of sewing projects that they may be interested in from Pinterest.
Flip, Cut and Sew Zippers
Okay, how many of us have sewn zippers on the inside without flipping over the fabric? This simple 5-step visual can teach kids how to sew on zippers the right way. Then they will be able to sew them on practically anything, including the other projects that are mentioned here.
Found via The Gilded Hare
Tissue Covers
Sometimes those tissue boxes in your child's room are just plain boring. Design them in the colors that your child loves with these simple tissue covers they can make themselves.
These covers can kind of remind you of tiny pillow shams, yet for tissue boxes. Let your child make them in different sizes to hold the various sizes of tissue boxes. They may even get inspired to create a travel tissue cover that looks stylish with your purse.
Keychain Chopstick Holder
Get into the holiday spirit with these adorable quick chopstick holder keychains. Your child can hang anything from their house keys to little charms and pendants so they always know where to find them.
Found via Crazy Little Projects
What a great tiny gift your child can pass out to relatives friends! Or your child can place the metal loop on their jacket zipper to make it easier to pull it up and down on those cold wintry days.
Forest Animal Keychains
Another keychain project that I like. These forest animal keychains are great little projects for your child's small hands as they can hone their sewing skills.
Found via Repeat Crafter Me
Farm Animal Hand Puppets
These cute hand puppets can be your child's favorite go-to project. They can make all their favorite farm animals including the farmer Old MacDonald as they will be singing the rhyme as they sew.Then help your child put on the perfect puppet play for the entire family.
Found via Just Another Day in Paradise
Shark Pencil Case
Is your child tired of stepping on their coloring pencils on the floor? Then they can keep their pencils organized and easy to take with them inside their book bag with this patchwork shark pencil case.
Found via Patchwork Posse
While the project shows a patchwork design (which is great to get rid of all those tiny scraps of leftover fabric), let your child select the fabric they desire so it will be personalized to their own tastes.
Glove Monsters
I love this project by Linda! About every parent has an old box of lost clothing items such as winter gloves as you leave the lone glove in there in the hopes that the mate will pop up eventually. Well, your kids can play with the single gloves by making them into glove monsters.
Found via Craftaholics Anonymous
This simple project is great for beginners as they will have as much fun with the glove monsters inside the house as they did wearing the gloves outside.
Whale Pouch
I want one! Okay, so maybe your child will enjoy this cute little pouch shaped like a whale as they can hold their loose change, crayon, markers or just about any type of small objects.
Found via Guide Central
This project can easily be modified and changed into different animals that your child would love to sew and make their own.
Travel Playhouse
This is so cute and your child will love taking it everywhere with them, even on vacation. This project is called the travel playhouse as it looks like a small felt travel case that can be unhooked and opened into the inside of a dollhouse.
Found via UK Lass in US
It would be perfect for any type of doll that your child has as she can make tiny accessories that can go inside. Fashion it into a princess palace, a regular toy house, or a tiny felt cabin with stepping stones crossing a blue fabric river. You can help your child experiment with different ideas until they make the playhouse how they like it (tiny wooden furniture is optional).
There you go, we have listed out simple sewing projects that your kids would surely have fun doing.
Summer is a good time to bond more with your kids, and introduce them to easy sewing projects, and at the end of summer, they should have just more than enough gifts to go round to everyone.
I understand that your kid may feel like doing a bigger project, but everything is a process right? So, we are going, to begin with, the little projects, and trust me; it feels so fulfilling to start and finish a project in a few minutes. I am pretty sure that they would love that too.
I hope you enjoyed all these projects we shared. We are regularly updating our list, so stay tuned.