I think it's fair to say that children find sewing more fun than us adults. Regardless of age, children can learn various types of sewing and improve their sewing skills along the line. Children of different ages can learn how to sew; however, some may require more supervision than others.
When kids understand sewing techniques at a young age, it will enable them to handle bigger projects faster than you can even imagine. But remember that, it isn't so easy teaching a child how to sew. Teaching kids how to sew requires patience, consistency, and loads of love, especially if you are a professional sewist.
Allow your kid to make certain mistakes when sewing, it's all part of the process, and that way, they can learn from their mistakes.
But there is still a major question that parents aren't exactly sure about the answer, and that's "what age is appropriate for their kids to start sewing?"
The truth is that, if your child has a strong passion for sewing, you should teach them how to see. You can start tutoring your kids on how to sew from the "early age of four".
But remember that teaching your child how to sew at such a young age would require your full supervision, so he/she doesn't get hurt. Plus, kids have a short attention span, so they would be prone to get injured, and this is why you must carefully watch them.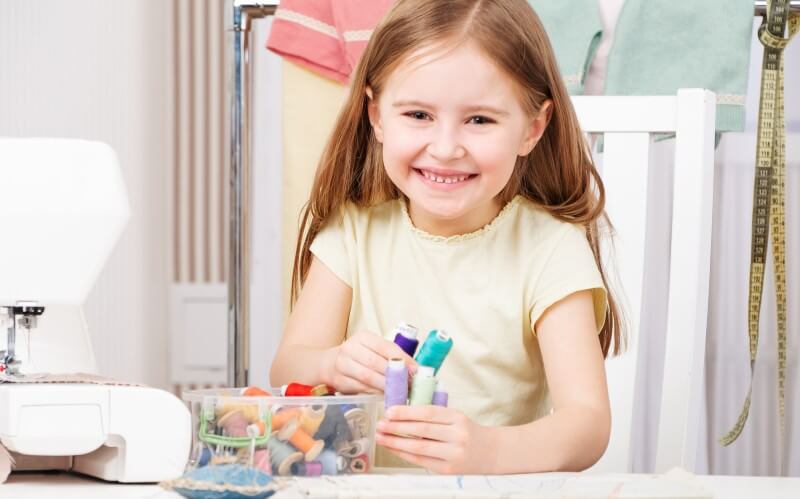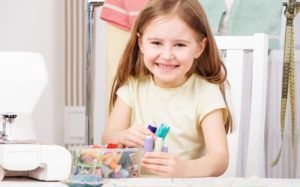 But if you think the age of four is too young, you can go for the recommendation of most sewing experts. They agree that the right age for kids to learn how to sew is "the age of six," so; you don't end up getting frustrated or impatient while teaching them. Even at this age, they still need supervision to prevent any potential injuries.
However, when they get to "the age of eight," you can occasionally leave them unsupervised. For this to happen, you still have to make sure that all the necessary safety measures are put in place, to keep your child's hands away from any mishap.
What Are The Necessary Skills Your Child Must Have To Use A Sewing Machine?
For your child to properly understand how a machine works, you need to teach them the basics of sewing, and the necessary skills involved.
The first and most important skill to teach your kids is how to thread a needle because that is the foundation of sewing. They also need to understand how to control the foot pedal in a sewing machine, so they can have control when sewing.
Drawing of perfect curves is another important skill your child needs to master to understand how a sewing machine works. For your child to properly understand how to draw a perfect curve, get them to trace the outline of their favorite dress or shirt on a paper.
Learning and understanding this skill would give them a solid sewing foundation. Furthermore, this would even help them coordinate and have control of their hand movements while sewing.
Once you are satisfied with the fact that they have mastered the skill of drawing accurate lines, progress to teaching them using a piece of fabric. While learning how to operate a sewing machine, their reading skill would be put into practice, as it would help them differentiate the various stitch settings in a sewing machine.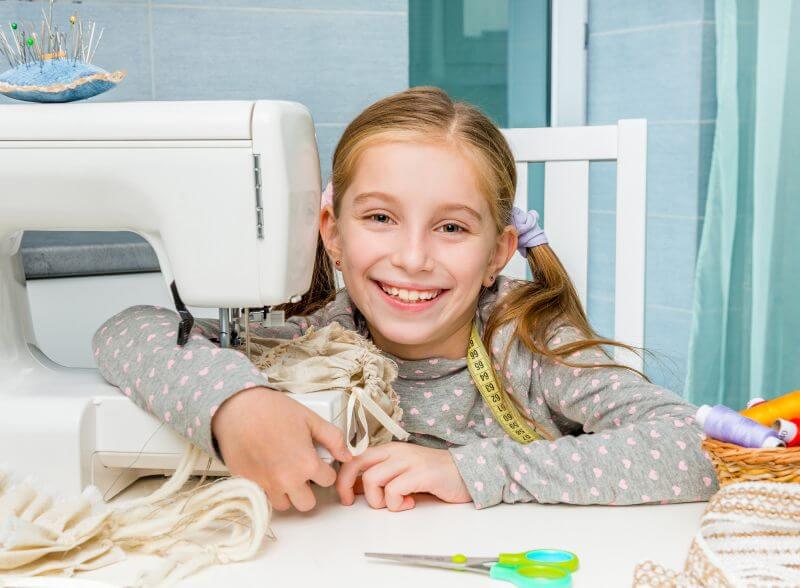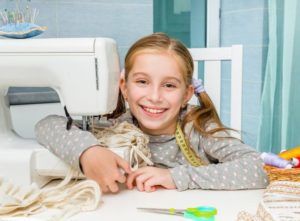 Remember not to pressure your child into doing everything correctly on their first few tries. Allow them to explore and showcase their creativity; that way, you can even understand your child better.
You can teach them how to use a particular stitch, but if they opt for a different one, then allow them, as long as it is safe. With time, they would understand how to master different stitches at once, while still having fun.
Factors to Put in Place When Buying a Sewing Machine for your Child
Safety precautions
Ease of use
Their skills – beginners, advanced or intermediate
Do not buy toy machines
Design
Weight
Price
Final Thoughts
Don't forget that sewing is a lifelong craft, and once your child masters it, then they are good to go. And with time and constant practice, they are well on their way to becoming professional sewists.
But, it would take your patience, dedication, consistency and also money, to mould them into the best.